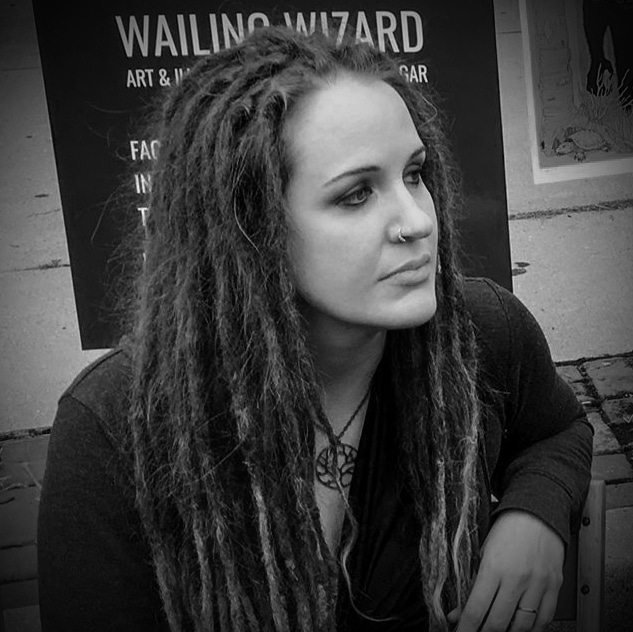 Rebecca Magar
I have always been inspired by fantastic and imaginative stories with dark themes. In addition to my love of fantasy, I grew up with a close relationship to (and love for) animals. These ideas and inspirations naturally made their way into my own work while I progressed as an artist.
My work would be best described as imaginative realism or dark fantasy art. I frequently include animals, death, skeletons, crows and other dark subject matter in my artwork, and I love to incorporate hidden references to personal experiences and stories within each piece.
As an artist, I try to breathe life into each piece by incorporating both subtle and bold movements. My hope is that the observer not only views the artwork, but also imagines the rushing wind, senses the cold, or hears the sound of wings thrashing in the sky. I aim for each and every piece to be a complete visual experience.
Bio
Rebecca Magar took a few years of childhood art lessons, but is otherwise self-taught. She has been creating art for nearly 20 years, however, she only began developing her focus as a dark fantasy artist within the last 8 years.
In 2007, Rebecca graduated with an associates in graphic design from Bradley Acedemy for the Visual Arts in York, PA. Rebecca is employed professionally as a graphic designer and web developer, which has given her the ability to combine design and traditional fine art to produce album artwork, cover art and illustrations using oils, acrylics, pen & ink, charcoal, pencil and digital arts.
Her unique understanding of both fine art and graphic production techniques gives her the ability to produce finished designs that are completed and ready for print, web, or a variety of other applications.
Exhibitions
HIVE artspace – Annual Spooky Art Show – York, PA
October 6th, 2017 to October 28th 2017
Ghost Gallery – Art of Tarot II Exhibit, Seattle, WA
September 14th, 2017 to October 8th 2017
HIVE artspace Pale Visions Exhibit – York, PA
January 6th, 2017 to January 28th, 2017
The Rooted Artist Collective Exhibit – York, PA
July 1st, 2016 to July 30th, 2016
Equinox Music and Arts – Dallastown, PA
August 1st, 2012 to August 31st, 2012
Publications
1create.co.uk Interview
Jun 5th, 2018
CvltNation.com Review
Feb 12th, 2018
BraveWords.com Tengger Cavalry Video Promo
Oct 13th, 2017
The Sludgelord Interview
Oct 12th, 2017
Poolside Podcast, York Interview
August 14th, 2017
ViaOmega Magazine Feature
March 2017 Issue
Khayyam Guliyev's Art Blog Feature
January 25th, 2017
Metal Injection/Tengger Cavalry Video Promo
January 16th, 2017
Exposition Art Blog
Oct 12th, 2017
Radiant Shadow Blog Feature
December 13th, 2016
Inspirations
Patrick J. Jones, Raoul Vitale, Brom, Artuš Scheiner, David Palumbo, Santiago Caruso, Arthur Rackham, Zdzisław Beksiński, Dariusz Zawadzki
Mediums
Oils, Acrylics, Pencil, Charcoal, Pen & Ink and Pastels
Professional Accomplishments
Education:
Bradley Academy for the Visual Arts
Associates Degree in Graphic Design – 3.85 GPA
Alpha Beta Kappa National Honor Society
---
Recent Experience:
Web Developer/Graphic Designer
Howard Miller Associates, Lancaster, PA – 12/10 to Present
Owner/Operator
SG, LLC & Spastic Ghost Web Hosting, York, PA – 1/13 to Present
Learn more at Rebecca's LinkedIn Profile